SMART WI-FI RF VIDEO DOORBELL DP1500
Tejovat DP1500 is a smart video doorbell that provides 720P HD quality pictures and videos of visitor's on the connected smartphones. The DP1500 has a feature of RFID card reader. You can unlock your door with the help of RFID cards. The DP1500 gets connected to your home network easily through either Wi-Fi, with the help of Smartlink interface or wired Ethernet connection. With 'Smart Home Cloud' smartphone app, DP1500 provides user an easy way to have video conversation with the visitors along with controlling the door lock ideally from anywhere. The DP1500 provides an alert like phone call on the user's smartphone when the visitor presses the video doorbell's call button. The DP1500's smart camera monitors all the activities in front of your door which can record photos or videos of the motion detection during day and night with the help of PIR and night sensors. User can monitor all the activities with the help of their smartphones or configure the doorbell for recording these activities on the micro SD card. With the help of email push option, user can have emails of the photo attached to it when there is a motion detection in front of your door.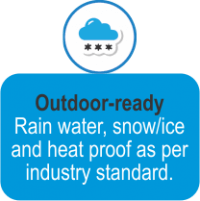 Take a look at our smart home products
More than 1 million burglary cases happen in India every year during daytime when homes are usually unoccupied. The traditional security systems activate once a break-in has occurred, the DP1000 Smart Video Doorbell is designed to prevent break-in from taking place at all. You can answer the visitor from anywhere using your smartphone with the DP1000 smart video doorbell.
LEARN MORE